Quick Facts
Name
George Dzundza
Age
77 years
Birthday
July 19, 1945
Birth Place
Rosenheim, Germany
Father's Name
Roman Dzundza
Mother's Name
Maria Humenecka
Wife
Mary Jo Vermeulen
Height
5 feet 10 inches
Weight
65 kg
Eye Color
Grey
Hair Color
Blonde
Net Worth
$2 million
George Dzundza is an American actor best known for his outstanding performances in movies and TV series. The actor has gained immense fame and a name in the industry because of his determination and talent. One of the best things about George is that he is equally known for leaving famous TV series as he is famous for appearing in them.
George Dzundza is best known for the movies like Crimson Tide (1995) and The Deer Hunter (1978). Since his debut, the artist has received a lot of praise and positive responses from the audience. Besides, he had also come in hyped once for quitting one of the longest-running NBC TV Series.
Is George Dzundza still Alive?
George was born on July 19, 1945, in Rosenheim, Germany, and is currently 77 years old. He is still alive and kicking even at this age but the actor has already quit his acting career. Dzundza began acting when he was in his freshman year of college but it was not his idea at all. The actor was insisted to perform by one of his classmates and that insistence changed George's life forever.
The actor spent a few years of his childhood in a displaced persons camp with his parents and brother and later went to Amsterdam in 1949, and then to New York, USA in 1956. Finally, George completed his schooling at Xavier High School and university graduation from St. Johns University.
What is George Dzundza Family Background?
Dzundza is the son of a Ukrainian father originally from Kalush, Ukraine, and a Polish mother, originally from Lviv, Ukraine. His father's name is Roman Dzundza and his mother's name is Maria Humenecka. As per the reports, his parents were forced into the labor factory by the Nazis after George and his brother were born, which is why, he spent a few years of his childhood in displaced persons camps.
Besides, George Dzundza and his wife Mary Jo Vermeulen remain married since 1982. The couple are parents to three daughters and grandparents to two grandchildren as well. However, we do not have a clue regarding George's children's and grandchildren's names.
What are George Dzundza Movies and TV Shows?
George Dzundza has portrayed some remarkable roles in several movies and TV shows. As a result, the actor earned a huge name and fame. He started his professional career by appearing in a stage act at the 1973 New York Shakespeare Festival organized by King Lear.
After that, he appeared in several short-lived sitcoms and gradually became one of the most valuable parts of Hollywood. However, he decided to end his acting career after appearing in the 2011 TV film named Danni Lowinski, so, George is no more active in the acting industry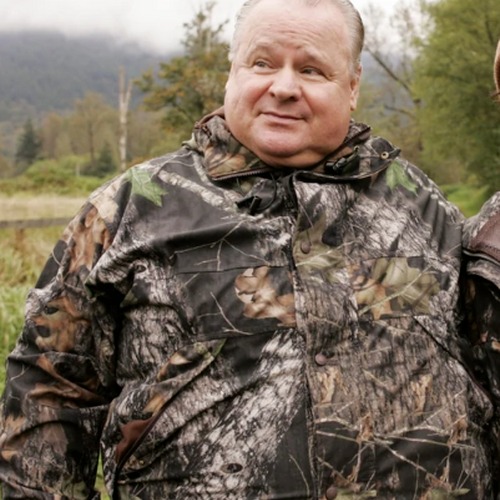 We can see some of George's significant appearances in movies like Crimson Tide, Basic Instinct, The Deer Hunter, and Dangerous Minds. Besides, he was also one of the first cast of the famous American sitcom, Law & Order. Moreover, we can also see him in many TV series. The roles that he portrayed in all the movies and TV Series have become very famous amongst the audience worldwide, resulting in the actor winning several awards as well.
Why Did George Leave Law & Order?
George Dzundza, as mentioned above, was one of the first members of the long-running NBC drama. Law & Order. In this series, he portrayed the role of NYPD Sergeant Max Greevy but only in the first season.
The actor left the show after the first season because he got disappointed by the fact that Law & Order would be an ensemble show rather than a show starring him. Even his castmates, who loved his performance, were uncomfortable around George, and finally, he left the show.
In addition to the above-mentioned reasons, one of the major reasons for the actor to leave such an amazing show was because of his difficulty in transporting from Los Angeles, his hometown to New York, the shooting destination.
Is George a cast of Grey's Anatomy?
Dzundza became a part of the popular TV series, Grey's Anatomy in 2005 but left the show in 2007. The actor had portrayed the role of Harold O'Malley for two years. Grey's Anatomy is a famous American medical drama series that has 19 seasons and 420 episodes. Grey's Anatomy aired its first episode on March 27, 2005.
What is George Net Worth?
George Dzundza has a total net worth of $2 million as the artist has earned a lot throughout his career. Along with movies and TV shows, Dzundza also appeared in several brand endorsements and advertisements. As a result, the former actor lives a lavish lifestyle with the money that he has earned throughout his career as a result of his determination and hard work.
George Dzundza is a famous actor with a lot of fans and supporters all over the world. His fans always wish to connect with the artist and have some interactions but George is unfortunately not available on Instagram or any other social media platforms. There are some hashtags and fan-made accounts handled by his fans and well-wishers. However, they still wish that the former actor becomes active on social media so that they can connect to him.
For More Biography, Gossip, Follow Legends Bio.
---