Quick Facts
Name
Nico Hiraga
Age
24
Birthday
December 19, 1997
Birth Place
California, San Francisco
Father's Name
Jun Hiraga
Height
5 feet 8 inches/1.78 m
Weight
62 kg
Eye Color
Black
Hair Color
Black
Net Worth
$1 million
Nico Hiraga is a dynamic American skateboarder and actor. He has played in many movies, but he is better known for his roles as Seth in the 2021 movie Moxie and Tanner in the 2019 movie Booksmart. In addition, he will be seen in the upcoming Amazon series entitled The Power.
Hiraga has a diverse ethnic background, as his father is Japanese, whereas his mother is of German-English descent. Nico stated that his Japanese heritage greatly influenced his cherry blossom collection with Lakai. 
What is Nico Hiraga Age?
Nico Hiraga was born on December 19, 1997, in the beautiful city of California, San Francisco. According to his date of birth, he is running at the age of 24. Apart from this, Nicolas is half-American and half-Japanese in terms of ethnicity. Talking about his parents, his father is a Japanese immigrant named Jun Hiraga, whereas his mother is American. Furthermore, details about his siblings are currently unknown.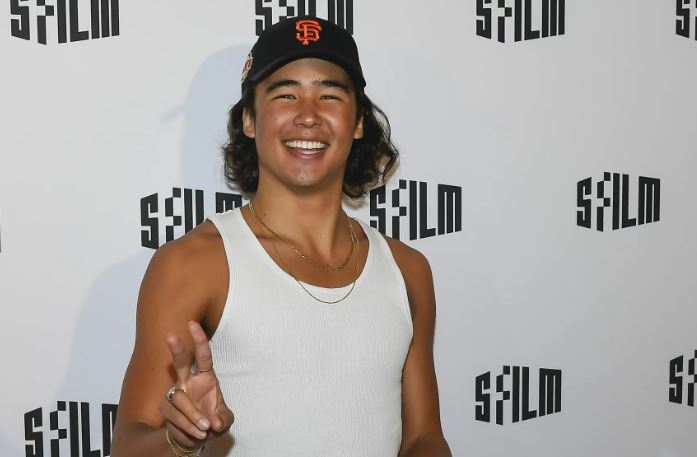 Did Nico Complete His Education?
Nico Hiraga is a well-educated skateboarder. At the high school in his hometown, Nico finished his studies and graduated in 2016. Furthermore, Nico has not publicly mentioned the name of his college or university.
How Nico Builds His Career?
Nico made his debut in 2017 with the movie The Flare. Then he also played in a short film entitled Summer of 17. Skate Kitchen came out in 2018, and we previously talked about Hiraga's involvement in the movie. The two movies he is well known for our Booksmart and Moxie, which came out in 2019 and 2021, respectively.
Similarly, he has shown his involvement in other movies like Loveboat, Taipei, Sweethearts, Godspeed, etc. In addition, you may have also known him from his cameo appearance in Olivia Rodrigo's music video for Brutal.
Did Nico Hiraga leave Skateboarding?
Hiraga was a massive skater before acting and belonged to the skate crew "Illegal Civ." Nico had been skating since the age of nine and sponsored since he turned fourteen. However, when he had an injury and tore a ligament in his ankle, he felt his skating days were done. So he became a manager and then booked a film out in New York about skateboarding. The movie was called Skate Kitchen.
Who is Nico Hiraga Girlfriend?
Nico is a very attractive man with a huge fan following. There must have been a lot of attractive women in his life, and one extraordinary woman. However, he stays lowkey about his personal life. Reports have stated that he has a secret girlfriend who visited him on the sets of the movie Moxie, but there is not much evidence. 
What is Nico Hiraga Net Worth?
24-year-old Nico has been active as a skateboarder since he was a child and his acting career is also prominent since 2011. Therefore, he has been able to make quite some money for himself. According to exactnetworth.com, we came to know that his net worth is approximately $1 million. Most of his current net worth comes from his professional career as an actor and some from his appearances in skateboarding challenges.
How Tall is Nico Hiraga?
Young and Dynamic Nico has an average height. She stands at the height of 5 feet 8 inches/1.78 m and weighs about 62 kg. He has maintained his body fit and healthy. In addition, his body actual body measurement has not been officially documented as of now. But through his looks or photo, we say he has an attractive personality. Furthermore, he has black hair with black color eyes.
Is Nico Hiraga active on social media Platforms?
Nico Hiraga is popular on social media platforms such as Instagram, Facebook, etc. He has a verified Instagram account with the id @nicotheduffer; furthermore, he has more than 645k followers on his Instagram. Moreover, he mainly posts pictures of him skateboarding and records his daily life on his Instagram channel. 
 
For More Biography, Gossip, Follow Legends Bio.
---