Quick Facts
Mother's Name
Louise Wilson
Sister
Sue Wilson
Wife
Tudi Roche
Height
5'10"
Weight
90 kg
Eye Color
Light Brown
Hair Color
Black
Net Worth
$10 million
Name
Richard Karn
Age
66
Birthday
February 17, 1956
Birth Place
Washington, U.S.A.
Father's Name
Gene Wilson
Richard Karn is an all-American actor, former television show host and author. The veteran actor has appeared in innumerate television shows and films and a few music videos. Karn also appeared in an episode of WWE Raw in 2007
Aside from that, He portrayed Al Borland in the ABC sitcom Home Improvement from 1991 to 1999 in over 200 episodes. Let's have a closer inspection of the multi-talented actor. In this article, we will be including all the details related to the actor's family details, body measurements, social media accounts, age, career, and many more.
What is Richard Karn Age?
Richard Karn was born Richard Karn Wilson on February 17, 1956, in Washington, U.S.A. The native of Seattle, Karn, is 66 years old. As he was born in America and his nationality is American. Similarly, he is of a white caucasian ethnic race and a follower of Christianity. He is versatile in nature. Also, he use to participate in many competitions since her childhood.
His father, Gene Wilson, was in the US Navy' Seabee' who fought in the second world war. Meanwhile, there is not enough information about her mother, Louise Wilson, who passed away long ago because of bone-marrow cancer. Likewise, Karn has a sibling named Sue Wilson. 
How did Richard start his career?
After Karn came to Los Angeles in 1989 with her wife, he started working as a catering event manager. After completing traffic school, he was cast as Al Borland in the pilot episode of Home Improvement. When we talk about his education, Richard attended Theodore Roosevelt High School in his hometown Seattle. Richard Karn along with Tim Allen explained about  "More Power"  on the History Channel.
He took over as the fourth host of Family Feud in 2002, succeeding Louie Anderson, followed by John O'Hurley. He is versatile in nature. He succeeded to play in many movies as well as on television shows. Because of Richard's contribution to Family Feud, the family feud with Richard Karn is the most searched question on the internet these days. He later joined the University of Washington to attain Professional Actor Training Program, where he was a Beta Theta Pi member.
Who is Richard Karn Wife?
Richard Karn married an American actress and singer, Tudi Roche, in 1985 and has been together for almost 40 years. Their long and happy married life is even more colorful by their son's birth. They named him Cooper Andrew Karn. Besides, his wife Tudi is famous for playing Carrie opposite himself in Home Improvement.
What is Richard Karn Net Worth?
According to Celebrity Net Worth, The Bold and the Beautiful star has an estimated net worth of $10 million. With 40 years plus career in the showbiz industry and has appeared in many shows and films, Karn has made himself a reputed person in Hollywood.
The result of which he now enjoys such a gigantic net worth. Richard Karn's compensation per episode on Home Improvement peaked at $150,000 in the later seasons. That amounted to $3.3 million every season.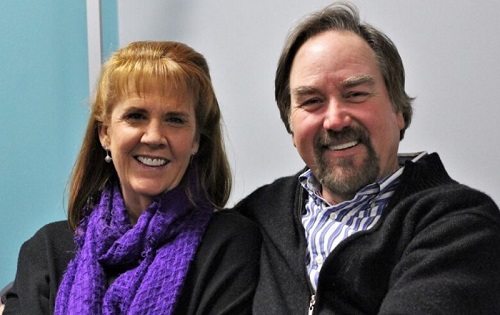 How tall is Richard in height?
According to Celeb Height, Richard Karn stands at a decent height of 5 feet and 9.5 inches (176.5 cm). While his body weight measures around 90 kilograms (198 lbs). He has a huge body, but unfortunately, its measurements are missing from the internet. Likewise, Karn has black hair and a pair of light brown eyes.
What are Karn's social media accounts?
The Family Fued host Richard Karn is active on Instagram and Twitter. His Instagram account @officialrichardkarn, though not officially verified, has 13K followers and 102 posts. On April 29, he posted a black and white vintage image of himself with the caption "Old head shots… black and white 8X10's". On Twitter, he has a verified account, @TheRichardKarn, which has 20.6K followers. 
For More Biography, Gossip, Follow Legends Bio.
---